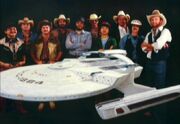 Bob Diepenbrock was an employee at Industrial Light & Magic who was assigned as a model maker under Steve Gawley. He was among the team responsible for the construction of the USS Reliant studio model for Star Trek II: The Wrath of Khan.
While at Industrial Light & Magic, Bob Diepenbrock worked on the model of the mothership for E.T. the Extra-Terrestrial and assisted on various films such as Raiders of the Lost Ark, Poltergeist and set work for The Right Stuff.
In 1996, Diepenbrock returned to special effects by working for Digital Domain where he built the battle cruiser and Maundocheuan Ship for The Fifth Element, then to Sony Pictures where he worked on model construction on all battle cruisers for Starship Troopers. He later did the first sketch models for Buena Vista's Armageddon.
External link