Ad blocker interference detected!
Wikia is a free-to-use site that makes money from advertising. We have a modified experience for viewers using ad blockers

Wikia is not accessible if you've made further modifications. Remove the custom ad blocker rule(s) and the page will load as expected.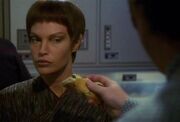 Blueberry pancakes were a type of breakfast food consisting of thin flat cakes, known as pancakes, with whole blueberries added and fried on a griddle.
In 2151, Phlox suggested that T'Pol try a bite of his blueberry pancake in order to be more adventurous in her culinary choices. He described them to her as being "quite delicious." (ENT: "Unexpected")