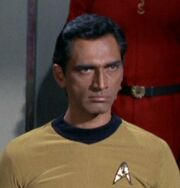 Blaisdell Makee (15 November 1931 – 21 February 1988; age 56), also known as Makee K. Blaisdell (among many other forms of the name), was a Hawaiian actor who appeared twice on Star Trek: The Original Series.
Makee filmed his scenes for "Space Seed" between Thursday 15 December 1966 and Tuesday 20 December 1966 and his scenes for "The Changeling" on Monday 10 July 1967, all at Desilu Stage 9.
He had numerous small appearances in television shows throughout the 1960s and '70s, including Mission: Impossible, Hawaiian Eye, and The Big Valley. In the 1970s, Makee appeared in the lurid exploitation film The Manson Murders, which also had Sean Kenney in the cast list. He starred as the title character in Johnny Lingo, a short made by Brigham Young University, which has since become a cult favorite in Mormon cinema.
Appendices
Edit
Appearances
Edit
External links
Edit
Ad blocker interference detected!
Wikia is a free-to-use site that makes money from advertising. We have a modified experience for viewers using ad blockers

Wikia is not accessible if you've made further modifications. Remove the custom ad blocker rule(s) and the page will load as expected.