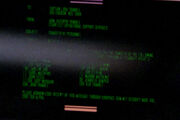 Bjo Trimble was a Human Starfleet officer in the mid-24th century.
In 2364 she held the rank of commander. She was transferred from the USS Equicon to a new posting on stardate 41547.3. (TNG: "Conspiracy")
The character was never mentioned in dialog; the name comes from a mission order. The name of this posting was in text that was lost. Her name is an in-joke reference to
Star Trek
fan and organizer Bjo Trimble.