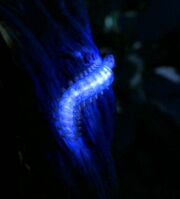 Bioluminescence was the ability of some lifeforms to produce and emit light. On Earth, various fungi and other small lifeforms, such as fireflies, gave off light.
In 2151, Enterprise NX-01 visited the planet of Dakala and the crew saw a bug emitting light. (ENT: "Rogue Planet")
At the first Annual Voyager Science Fair on the USS Voyager, in 2376, Mezoti presented a transparent box containing soil and a colony of luminescent Teirenian ants. She had infused the soil with a blue ion dye so the insects would be easier to see. (VOY: "Child's Play")
Risa had subterranean gardens in which all the plants were luminescent. (ENT: "Two Days and Two Nights"). Gedi Prime contained waterfalls glowing with bioluminescence, a popular tourist destination. (VOY: "Drive")
External link
Edit
Ad blocker interference detected!
Wikia is a free-to-use site that makes money from advertising. We have a modified experience for viewers using ad blockers

Wikia is not accessible if you've made further modifications. Remove the custom ad blocker rule(s) and the page will load as expected.