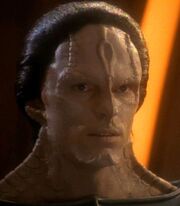 Billy Burke (born 25 November 1966; age 50) played Ari in the Star Trek: Deep Space Nine episode "Second Skin". It was his first television role. Burke starred in the post-apocalyptic drama Revolution (2012) as the lead character Miles Matheson. The actor currently stars in Zoo.
Burke has also guest starred in Monk (2003, with Sarah Silverman and Stanley Kamel), 24 (2002-2003), Gilmore Girls (2003), and Party of Five (1994 and 1996).
His motion picture credits include Along Came a Spider (2001, with Anton Yelchin), Jane Austin's Mafia! (1998, with his DS9 co-star Gregory Sierra), Ladder 49 (2004, with DS9 guest star Tony Rizzoli), Feast of Love (2007), Fracture (2007, with Bob Gunton), Forfeit (2007, with Gregory Itzin), Lost Junction (2003), Untraceable (2008), The Grift (2008, with John Savage), and Red Riding Hood (2011).
More recently, Burke had a recurring role as Jack Newman in the comedy series My Boys (2008), a guest role in the mystery series Fringe (2008, alongside Kenneth Tigar, created by J.J. Abrams, Roberto Orci, and Alex Kurtzman), and roles in the fantasy drama Twilight (2008, alongside Michael Welch) and its sequels The Twilight Saga: New Moon, The Twilight Saga: Eclipse, and the two-part The Twilight Saga: Breaking Dawn. Burke has also appeared in the musical Baby O (2008).
External links
Edit
Ad blocker interference detected!
Wikia is a free-to-use site that makes money from advertising. We have a modified experience for viewers using ad blockers

Wikia is not accessible if you've made further modifications. Remove the custom ad blocker rule(s) and the page will load as expected.