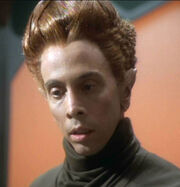 Bill Mondy is an actor who played Jakin in the Star Trek: Deep Space Nine episode "Armageddon Game".
Mondy had a regular recurring role as Deputy Roscoe in Michael Piller and Shawn Piller's The Dead Zone (which also starred DS9's Nicole de Boer as Sarah Bannerman and TNG guest star David Ogden Stiers as Reverend Eugene Purdy) and has also appeared in René Echevarria's The 4400.
He has also appeared in other popular television shows such as Crusade, Wolf Lake, Smallville, Andromeda, Blade and Supernatural.
His motion picture credits include Meet the Deedles (1998), The Crow: Salvation (2000), Scooby Doo 2: Monsters Unleashed (2004), Case 39 and The Day the Earth Stood Still.
External links
Edit