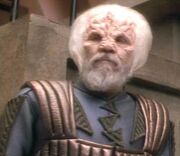 Bill Bolender played the Albino in the Star Trek: Deep Space Nine episode "Blood Oath".
He has appeared in motion pictures such as Robocop 2, JFK, The Shawshank Redemption (with William Sadler, Bob Gunton, Dion Anderson, Brian Brophy, and Clancy Brown), Things to Do in Denver When You're Dead (with Christopher Lloyd), Nixon (with Victor Rivers and Michelle Krusiec), and Dante's Peak.
He also starred in Uncle Tom's Cabin (1987), with Avery Brooks.
External links