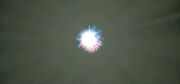 The Big Bang is the term which refers to the origin point of the universe, an instantaneous expansion of a microscopic singularity.
Captain James T. Kirk logged that "For years scientists have theorized that if our galaxy was created from a great explosion, then the center of the galaxy might still be creating new matter." In 2269, the USS Enterprise conducted a science mission to test this theory. (TAS: "The Magicks of Megas-Tu")
The particular instant of the Big Bang was considered a "Very old hiding place" among the
time traveling
Q
. While attempting to flee from his fellow
Q
,
Quinn
transported the
USS Voyager
to a point in time shortly before the Big Bang.
B'Elanna Torres
remarked that Voyager was not capable of surviving the formation of the cosmos. Q retorted by stating she should consider it an honor to have her
atoms
become part of the entire universe. Quinn soon transported
Voyager
to a
Christmas tree
before the newly-formed expanding universe reached the ship. (
VOY
: "
Death Wish
")
After the discovery of the Omega molecule, Starfleet cosmologists theorized that this molecule was the source of the Big Bang. (VOY: "The Omega Directive")
See also
Edit
External link
Edit
Ad blocker interference detected!
Wikia is a free-to-use site that makes money from advertising. We have a modified experience for viewers using ad blockers

Wikia is not accessible if you've made further modifications. Remove the custom ad blocker rule(s) and the page will load as expected.