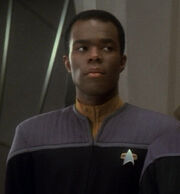 Benjamin Brown (born 1968) played Kagan in the Star Trek: Deep Space Nine episode "Inquisition".
Brown has appeared in many other popular television series such as Frasier, Sabrina, the Teenage Witch, The Drew Carey Show, Without a Trace and The West Wing.
He was one of a several Star Trek guest stars who appeared in the 1997 movie Liar Liar. The others include Anne Haney, Eric Pierpoint, Amanda Carlin, Jim Jansen, Randy Oglesby and Ernest Perry, Jr., all of whom appeared in Star Trek: Deep Space Nine.
In 1998's I Still Know What You Did Last Summer, he starred with Jeffrey Combs and Bill Cobbs. He also hosted the television wildlife programs "Omba Mokomba" and "Safari Tracks".
External links
Edit
Ad blocker interference detected!
Wikia is a free-to-use site that makes money from advertising. We have a modified experience for viewers using ad blockers

Wikia is not accessible if you've made further modifications. Remove the custom ad blocker rule(s) and the page will load as expected.