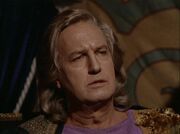 Ben Gage (29 October 1914 – 28 April 1978; age 63) was an American character actor with a very sporadic film and television career. He started his career dubbing songs, then disappeared from the movie world for a time, reappearing infrequently in the late fifties through the early sixties, but amassing just fourteen credits in that time, mostly in television.
Gage played Akaar in "Friday's Child". He filmed his scenes on Friday 26 May 1967 and Monday 29 May 1967 at Desilu Stage 10. His likeness was also used to represent Akaar's son, Leonard James Akaar as an adult, on the cover of the Star Trek: Titan novel "The Red King". Gage made his film debut in the 1959 crime drama The Big Operator with director/actor Larry Dobkin, but Gage entered into a film drought until the 1975 telefilm The Big Rip-Off with Robert Symonds. Gage played different characters on the western Maverick, one being an appearance in the 1959 episode "Gun-Shy".
He died of heart failure in 1978.
External link
Edit
Ad blocker interference detected!
Wikia is a free-to-use site that makes money from advertising. We have a modified experience for viewers using ad blockers

Wikia is not accessible if you've made further modifications. Remove the custom ad blocker rule(s) and the page will load as expected.