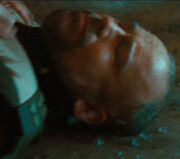 Benjamin P. Binswanger appeared as Admiral James Komack in 2009's Star Trek where he was credited as Ben Binswagner. He is an old friend of director and producer J.J. Abrams and, according to Abrams, the biggest Star Trek fan he had ever met. Credited as Benjamin P. Binswanger, he also appeared in 2013's Star Trek Into Darkness. This time he received credit as a Starfleet admiral. A behind the scenes picture of him was used for card #62, Admiral Komack, of the 2013 virtual collectible card battle game Star Trek: Rivals.
Binswanger previously appeared in Abrams' television series Lost in 2004. In the pilot episode he was one of the survivors of the plane crash. Other Trek alumni who worked beside Abrams and Damon Lindelof on this episode include Daniel Dae Kim, Terry O'Quinn, Jonathan Dixon, Greg Grunberg, and Steve Blalock.
External links
Edit
Ad blocker interference detected!
Wikia is a free-to-use site that makes money from advertising. We have a modified experience for viewers using ad blockers

Wikia is not accessible if you've made further modifications. Remove the custom ad blocker rule(s) and the page will load as expected.