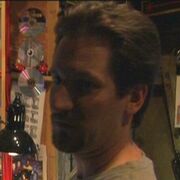 Ben Betts (born 16 July 1969; age 47) is a computer graphics and video playback engineer.
He worked in these capacities on a number of episodes and movies for the Star Trek franchise, including Star Trek: Voyager, Star Trek: First Contact (1996), Star Trek: Insurrection (1998), Star Trek: Enterprise, and Star Trek Nemesis (2002).
In 2005, he worked on the Threshold television series, which Brent Spiner starred on, Brannon Braga executive produced, and Mike Sussman wrote several episodes for.
He also worked on seaQuest DSV (also featuring Raphael Sbarge, Frank Welker, Jesús Salvador Treviño, Parker Whitman, Cameron Thor, W. Morgan Sheppard, Robert Bonchune, Carleton Eastlake, Christopher James Miller, James Contner, Les Landau, Rachael Harris, Richard Herd, and William Shatner), The Nutty Professor (1996, also featuring Athena Massey), and The Lost World: Jurassic Park (1997, also featuring Katy Boyer, Geno Silva, Robin Sachs, Marjean Holden, J. Patrick McCormack, Chuck Picerni, Jr., Harry Hutchinson, Ian Abercrombie, and Jacqueline Schultz).
External link
Edit