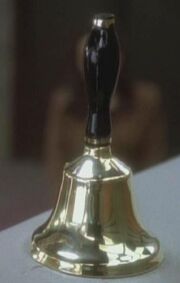 The bell is a music instrument that comes in various sizes and shapes.
Bells have been used in courtrooms for centuries. (TOS: "Court Martial"; TNG: "Encounter at Farpoint", "The First Duty"; DS9: "Rules of Engagement")
In the past, teachers used small hand-held bells to signal their students that the lesson would begin. Molly and Miles O'Brien gave Keiko a bell as a present for her first day as a teacher on Deep Space 9. (DS9: "A Man Alone")
External links
Edit
Ad blocker interference detected!
Wikia is a free-to-use site that makes money from advertising. We have a modified experience for viewers using ad blockers

Wikia is not accessible if you've made further modifications. Remove the custom ad blocker rule(s) and the page will load as expected.