Ad blocker interference detected!
Wikia is a free-to-use site that makes money from advertising. We have a modified experience for viewers using ad blockers

Wikia is not accessible if you've made further modifications. Remove the custom ad blocker rule(s) and the page will load as expected.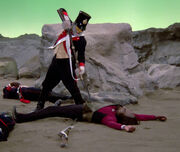 A bayonet is a knife fixed to the barrel of a rifle. It is used as a melee weapon in hand-to-hand combat.
Worf and Wesley Crusher were "killed" by bayonets in a Q-created reality in 2364. (TNG: "Hide and Q")
A kuttar was a type of bladed weapon that served the same function, issued to the guards at The Albino's compound on Secarus IV. (DS9: "Blood Oath")
Late in the Dominion War, the Jem'Hadar began attaching bayonets to their plasma rifles. (DS9: "What You Leave Behind")
External link
Edit