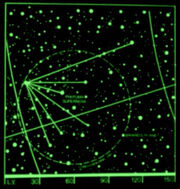 Bayard's Planet was a planet that was located approximately sixty light years from the nova Phi Puma. The supernova of Phi Puma created a concussion ring, which reached the planet in 2165.
In 2364, the location of Bayard's Planet was labeled in a star chart depicting the concussion ring expansion. This chart was stored in the USS Enterprise-D library computer. Later that year, the chart was scanned by Outpost 63. (TNG: "The Naked Now", production art; TNG: "The Last Outpost")
Ad blocker interference detected!
Wikia is a free-to-use site that makes money from advertising. We have a modified experience for viewers using ad blockers

Wikia is not accessible if you've made further modifications. Remove the custom ad blocker rule(s) and the page will load as expected.