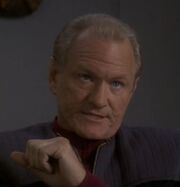 Bart McCarthy played Admiral Coburn in the Star Trek: Deep Space Nine episode "Favor the Bold".
His first movie appearance was in 1998's Memorial Day, in which Jeffrey King, Rob LaBelle and Stephanie Niznik also starred. He also played an uncredited role as a mental patient in the 2001 comedy movie Rat Race, in which Whoopi Goldberg also appeared, and played Captain Bart the Pirate in The SpongeBob SquarePants Movie (with Clancy Brown, Dylan Haggerty and Kristopher Logan).
He guest-starred in a episode of Angel, also in 2004. The episode, "Why We Fight", also starred Scott Klace, Lindsey Ginter and Joel Polis.
External link