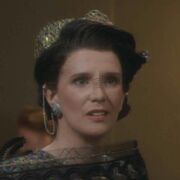 Barbara Bosson (born 1 November 1939; age 77), from Charleroi, Pennsylvania, USA, is a film and television actress. She appeared in the DS9 episode "Rivals" as Roana. She is best known for her role in the 1980s TV series Hill Street Blues (with James B. Sikking), for which she received five Emmy nominations. Bosson also starred in the 1970s TV series Richie Brockelman, Private Eye and in the 1990s TV series Murder One (with Daniel Benzali).
Bosson has made guest appearances on TV shows such as Emergency! (with Kevin Tighe), Lois & Clark: The New Adventures of Superman (which starred Teri Hatcher and fellow "Rivals" guest star K Callan), L.A. Law (with Corbin Bernsen) and appeared on the series Cop Rock (with Ronny Cox).
She has starred in some films, including Bullitt (1968, with Vic Tayback). She is also known for her movie role as Jane Rogan in the science fiction movie The Last Starfighter (1984, with Marc Alaimo, Dan Mason, Norman Snow, Kay E. Kuter, Geoffrey Blake, and Wil Wheaton).
External links
Edit
Ad blocker interference detected!
Wikia is a free-to-use site that makes money from advertising. We have a modified experience for viewers using ad blockers

Wikia is not accessible if you've made further modifications. Remove the custom ad blocker rule(s) and the page will load as expected.