Ad blocker interference detected!
Wikia is a free-to-use site that makes money from advertising. We have a modified experience for viewers using ad blockers

Wikia is not accessible if you've made further modifications. Remove the custom ad blocker rule(s) and the page will load as expected.
Notice
It has been suggested that this article should be merged with wine.
You can discuss this suggestion on the talk page.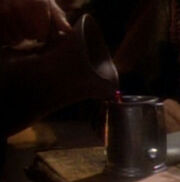 Baltrim's wine was a reddish-colored wine created by the Bajoran Baltrim on Jeraddo.
In 2369, when Kira Nerys was attempting to evacuate three people from Jeraddo before it was to be mined, she was served supper by Mullibok. The supper included a wine made by Baltrim. (DS9: "Progress")