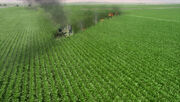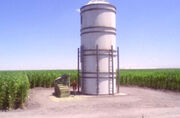 Bakersfield is a city in Kern County, California which was used as location for several scenes in the Star Trek: Enterprise pilot episode "Broken Bow".
In "Broken Bow", Bakersfield stood in for Broken Bow in Oklahoma, the place on which the Klingon Klaang crash-landed on Earth. The scenes in the cornfield, the showdown in the silo, and the shots of the house of farmer Moore were filmed on 12 June 2001 and 13 June 2001. The call sheets feature the comment "Dress for location; hot weather, dusty environment, bugs and unlevel terrain abound".
The production office during this location shooting was in the Doubletree Hotel, 3100 Camino Del Rio Court in Bakersfield, room #228. Lisa White served as location scout for this location. The shooting and the explosion of the constructed silo required ear plugs and hard hats for the crew. The shooting included actors Tommy "Tiny" Lister, Jr. and Ron King, stuntmen Steve Lambert, Mike Watson, Jeff Sanders, and John Duff, stunt coordinator Vince Deadrick, Jr., and stunt rigger Lane Leavitt.
External links