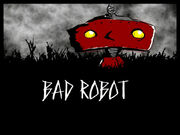 Bad Robot Productions is the production company which produced Star Trek with Paramount Pictures. It is owned by the film's producer/director J.J. Abrams. Star Trek executive producer Bryan Burk is the company's Executive Vice President. The company also produced the 2013 sequel Star Trek Into Darkness and will continue producing the Star Trek films with the 2016 sequel Star Trek Beyond.
Originally part of Touchstone Pictures, the company is now working on films in association with Paramount and on television series with Warner Bros. Pictures. In addition to Star Trek, Bad Robot oversaw production on the films Joy Ride (2001), Mission: Impossible III (2006), and Cloverfield (2008). On television, Bad Robot has produced the series Felicity, Alias, Six Degrees, What About Brian, Person of Interest, Alcatraz, and Revolution, all created or co-created by Abrams, and the hit ABC series Lost, co-created by Abrams and Damon Lindelof.
Bad Robot produced the FOX series Fringe, created by Abrams, Roberto Orci, and Alex Kurtzman, and the NBC series Undercovers, created by Abrams and Josh Reims. Further films include Morning Glory (2010), Super 8 (2011), Mission Impossible - Ghost Protocol (2011) and Star Wars: The Force Awakens (2015).
External links
Edit