Ad blocker interference detected!
Wikia is a free-to-use site that makes money from advertising. We have a modified experience for viewers using ad blockers

Wikia is not accessible if you've made further modifications. Remove the custom ad blocker rule(s) and the page will load as expected.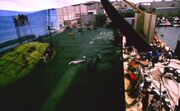 The "B Tank", short for "Blue Sky Tank" [1], was a large parking lot at Paramount Studios that was occasionally converted into a swimming pool/aquarium area. Star Trek scenes that were filmed there are the village scenes in The Original Series episodes "A Private Little War" and "The Omega Glory", the Vulcan scene in Star Trek: The Motion Picture and some parts of the Golden Gate Bridge scene at the end of Star Trek IV: The Voyage Home, the latter of which involved the tank serving as a portion of San Francisco Bay.
For "A Private Little War", the B Tank was used for the Neural village exteriors and interiors, filmed on Friday 6 October 1967. For "The Omega Glory" the same exterior sets were used to represent the Kohm village on Omega IV. Filming took place on Tuesday 19 December 1967. These were filmed on a previously existing set erected inside the tank, for another production, which became available for the Star Trek crew to use on a short notice for two episodes, before they were torn down. (These Are the Voyages: TOS Season Two)
The B Tank was approximately 110 by 150 feet in width. (The Making of Star Trek: The Motion Picture, p. 176) It was about four feet deep, except for a particularly deep area at its center. (citation needed • edit) In its water-filled configuration, the tank could be filled with millions of gallons of water. (The Making of Star Trek: The Motion Picture, p. 176) Recalled Industrial Light & Magic model shop supervisor Jeff Mann, "We built an enclosure for it [a portion of the San Francisco Bay] in one of our parking lots that was about 20 feet high and about 100 feet square. Within that enclosure, we built a tank that was about 18 inches deep." (The Making of the Trek Films, 3rd ed., p. 68) By the time of production on Star Trek IV, it had been many years since the tank was used for underwater work. (citation needed • edit) Earlier, the B Tank was used for many Paramount productions, such as Return to Gilligan's Island and the William Shatner-starred series Barbary Coast. (The Making of Star Trek: The Motion Picture, p. 176)
External link
Edit