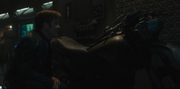 The PX70 motorcycle was a motorcycle type dating back to the 22nd century. One of these bikes were stored aboard the USS Franklin.
George Kirk, a 23rd century Starfleet officer, owned a PX70: his wife, Winona, told her son James that he would drive it with her seated behind him, which would drive her nuts.
In 2263, Jim Kirk noticed the PX70 aboard the Franklin on Altamid in the mess hall. He rode it as a distraction while his officers rescued the former crew of the USS Enterprise from Krall's camp. (Star Trek Beyond)
Ad blocker interference detected!
Wikia is a free-to-use site that makes money from advertising. We have a modified experience for viewers using ad blockers

Wikia is not accessible if you've made further modifications. Remove the custom ad blocker rule(s) and the page will load as expected.