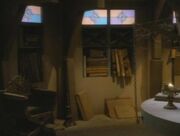 The Atheneum was the central government building of Ventax II, where most of Ventaxian government documents were held, including the Contract of Ardra and the Ventax II Constitution, and where they were made available for reading upon approval.
Data read through the Contract of Ardra at the Atheneum searching for loopholes in the document. (TNG: "Devil's Due")
Ad blocker interference detected!
Wikia is a free-to-use site that makes money from advertising. We have a modified experience for viewers using ad blockers

Wikia is not accessible if you've made further modifications. Remove the custom ad blocker rule(s) and the page will load as expected.