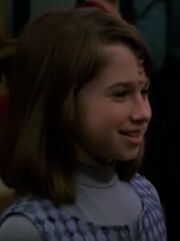 Ashley Sierra Hughes (born 15 February 1991; age 26), sometimes credited as Ashley Hughes, is the actress who played Sabrina in the Star Trek: Voyager episode "Endgame".
Hughes co-starred with fellow Voyager actress Scarlett Pomers in a 1999 short subject entitled Children of a Laughing God. She later appeared in an episode of 7th Heaven with Stephen Collins, Catherine Hicks, Ed Begley, Jr., and Ashley Edner. She was also seen on Martial Law (with Jude Ciccolella) and Just Shoot Me! and appeared in the 2001 films To Serve and Protect (with Michael Bailey Smith) and Holiday in the Sun (with Wendy Schaal).
External link
Edit
Ad blocker interference detected!
Wikia is a free-to-use site that makes money from advertising. We have a modified experience for viewers using ad blockers

Wikia is not accessible if you've made further modifications. Remove the custom ad blocker rule(s) and the page will load as expected.