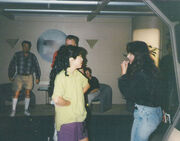 Arlene Fukai (born 5 November 1958; age 58) was the Second Assistant Director on Star Trek: The Next Generation and Star Trek: Voyager. She was also the Second Second Assistant Director on Star Trek Generations and ultimately became First Assistant Director on Star Trek: Voyager and Star Trek: Enterprise. In addition, she served as Second Assistant Director on the video game Star Trek: Klingon in 1996.
Because regular Marina Sirtis stand-in Nora Leonhardt was busy, filming her scenes as Marla Finn for The Next Generation episode "Eye of the Beholder" on Paramount Stage 8, Fukai got a wig from the hair department and replaced her for the light settings on stage 9. This was Fukai's only appearance in this department and Leonhardt was surprised when she saw Fukai with the Troi wig.
Arlene Fukai and A. Fukai, names on dedication plaques, and USS Voyager crewmember Arlene Fukai were named after her.
Her only known non Trek credit is John Carpenter's 1992 science fiction comedy Memoirs of an Invisible Man, on which she served as Second Second Assistant Director. Michael McKean, Ellen Albertini Dow, Rosalind Chao, Shay Duffin, Sam Anderson, and Aaron Lustig were among the cast in this film.
Star Trek credits Edit
(This list is currently incomplete.)
As First Assistant Director
As Second Second Assistant Director
As Second Assistant Director
External link
Edit
Ad blocker interference detected!
Wikia is a free-to-use site that makes money from advertising. We have a modified experience for viewers using ad blockers

Wikia is not accessible if you've made further modifications. Remove the custom ad blocker rule(s) and the page will load as expected.