Ad blocker interference detected!
Wikia is a free-to-use site that makes money from advertising. We have a modified experience for viewers using ad blockers

Wikia is not accessible if you've made further modifications. Remove the custom ad blocker rule(s) and the page will load as expected.
Antonia was a love interest of Starfleet captain James T. Kirk, whom he met in 2282 while horseback riding near his uncle's farm in Idaho. They lived together in a cabin near the mountains. Despite having fallen in love with Antonia, Kirk ultimately chose to break off the relationship in 2284, choosing instead to return to his career in Starfleet. While planning to announce his decision, he prepared a breakfast of scrambled Ktarian eggs with dill weed to soften the blow.
In 2293, upon being pulled into an extra-dimensional realm known as "the Nexus," Kirk experienced a reality in which he was given a chance to change history, and chose to propose marriage to Antonia instead of leaving her. Later, he relived the day on which he initially met Antonia. Although these experiences initially led Kirk to choose to remain in the Nexus, seeing it as his opportunity to correct the mistakes of his past, he ultimately chose to leave upon realizing that the events he was experiencing were not, in fact, real, but rather an elaborate illusion. (Star Trek Generations)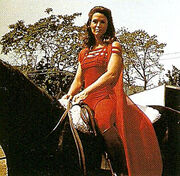 External link
Edit