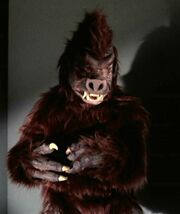 The anthropoid ape was a humanoid creature that was encountered in captivity on Talos IV by Christopher Pike in 2254.
In self-defense, one of the Talosians made himself look like the anthropoid ape to Pike, but this disguise was not successful. (TOS: "The Cage")
In the scripts for "The Cage", the creature was described as "a flat anthropoid-spider thing" with "ugly fangs". However, the episode's final credits give it the name "anthropoid ape".
Related link
Edit
Ad blocker interference detected!
Wikia is a free-to-use site that makes money from advertising. We have a modified experience for viewers using ad blockers

Wikia is not accessible if you've made further modifications. Remove the custom ad blocker rule(s) and the page will load as expected.