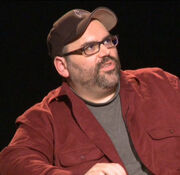 Anthony Pascale is the editor for TrekMovie.com, a Star Trek news website.
Pascale recorded an audio commentary with Damon Lindelof for the 2009 DVD and Blu-ray releases of Star Trek: First Contact. This came about due to his prior contacts with the writers of Star Trek, Roberto Orci and Alex Kurtzman, when he kept asking to create a means for the characters of The Next Generation to "pass the baton" back to the characters of Star Trek: The Original Series. This led to the creation of the Star Trek: Countdown comic series. [1]
Pascale was also part of the "Trek Roundtable: First Contact" guests on the First Contact DVD, in which he talked about the movie with Larry Nemecek, Charlene Anderson, and Jeff Bond.
External link
Edit