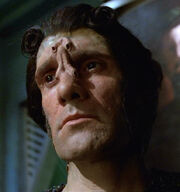 Anthony Crivello (born 2 August 1955 in Milwaukee, Wisconsin) is an actor, stage actor, and voice actor who played the Ilari Adin in VOY: "Warlord".
Crivello is an accomplished stage actor who has appeared in over hundred stage plays (such as Evita and Les Miserables), has received many awards (including a Tony award in 1993 for best supporting actor in a musical for his portrayal of Valentin in Kiss of the Spiderwoman), and has written several stage plays and musicals.
Among his on-screen acting resume are films such as Shakedown (1988, with Peter Weller, Jude Ciccolella, and stunts by Gary Epper, Noon Orsatti, and Patricia Tallman), Independence Day (1996, with Brent Spiner), Jane Austen's Mafia! (1998, with Billy Burke and Gregory Sierra), the television film Geppetto (2000, starring Rene Auberjonois and Brent Spiner), Material Girls (2006, also with Brent Spiner), and Trade (2007).
Crivello has also guest starred in television series such as Miami Vice (1988, with Matt Frewer), Law & Order (1990), Babylon 5 (1998, starring Tracy Scoggins, Bill Mumy, and Andreas Katsulas), Seinfeld (1998, starring Jason Alexander), Crossing Jordan (2003), and CSI: New York (2005).
External links