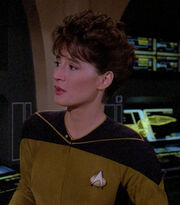 Anne Elizabeth Ramsay (born 11 September 1960; age 56) appeared as Ensign Clancy in the Star Trek: The Next Generation second season episodes "Elementary, Dear Data" and "The Emissary". In the latter one she was credited as Anne Elizabeth Ramsey. She is best known for starring in the television comedy series Mad About You as Jamie Buchman's (played by Helen Hunt) sister, Lisa Stemple. Also guest-starring on Mad About You were fellow TNG actresses Suzie Plakson and Gates McFadden.
Ramsay portrayed recurring characters in the television series Dharma & Greg, The L Word, Six Feet Under, Dexter, and Related. She appeared in the films Planet of the Apes (2001) and A League of Their Own (1992) with Ann Cusack, Lori Petty, Mark Holton, and David L. Lander.
External links
Edit
Ad blocker interference detected!
Wikia is a free-to-use site that makes money from advertising. We have a modified experience for viewers using ad blockers

Wikia is not accessible if you've made further modifications. Remove the custom ad blocker rule(s) and the page will load as expected.