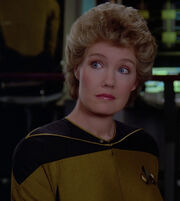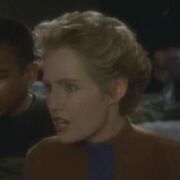 Ann H. Gillespie is an actress who played two Star Trek roles, with her largest being the recurring character of Nurse Jabara, whom she played four times in the first three seasons of Star Trek: Deep Space Nine. Gillespie had earlier portrayed Ensign Hildebrant in the Star Trek: The Next Generation second season episode "Pen Pals" in 1989.
She is probably best known for her recurring role as Jackie Taylor in Beverly Hills, 90210, whom Gillespie played throughout the series' ten year run. Her career on 90210 had her working alongside Michael Durrell, Stanley Kamel, Kerrie Keane, Dina Meyer and Noley Thornton. In 2008, Gillespie reprised her role as Jackie Taylor in an episode of its successor 90210.
Gillespie also guest starred in Happy Days, Matlock (with Corbin Bernsen and Granville Van Dusen), Hunter (with Leslie Bevis) and 7th Heaven (with Stephen Collins and Catherine Hicks).
Gillespie received a BA degree from Goddard College in 2003. She is also an Episcopal priest, and uses the names Mother Ann Gillespie and Rev. Ann Gillespie.
Appearances as Jabara
Edit
External links
Edit
Ad blocker interference detected!
Wikia is a free-to-use site that makes money from advertising. We have a modified experience for viewers using ad blockers

Wikia is not accessible if you've made further modifications. Remove the custom ad blocker rule(s) and the page will load as expected.