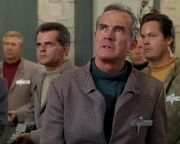 The Angosian senate was the government of Angosia III in 2366.
The senate included several Angosian senators, who operated from their residence in the Angosian capital city. The head of the Angosian senate was the prime minister, a position was held by Nayrok in 2366.
The Senate maintained a database of information, which included military records of its citizens such as Roga Danar.
In 2366, the Angosian senate was menaced by several chemically and psychologically enhanced Angosian soldiers, who were previously kept in the penal colony at Lunar V. The senators were armed to protect themselves from the soldiers. (TNG: "The Hunted")
It is unknown how many members the Angosian senate included, only eleven and the prime minister were seen in the episode. It is also unknown how the government of Angosia subsisted after the incident.
The group of ruling Angosians that met was not named in dialogue, but their Senatorial database was seen on an LCARS screen in the episode.