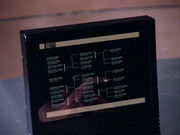 Angelo Dante Raymond was a Human, and a progeny of Clare Raymond. He was the son of James Holt Raymond and his wife. He was born in New Berlin, Luna in 2244. His brother was Peter Molnar Raymond. He married Annie Kaprelian Raymond, and they had a daughter and two sons. Their names were Cari Thomas Raymond, Robert Metoyer Raymond, and Robert Burnett Raymond. (TNG: "The Neutral Zone")
The name of this character was never mentioned in dialog; the name came from the remastered Clare Raymond family tree. Her mother's name and death year were illegible.

This character was named for CBS Lead Producer

Angelo Dante

.