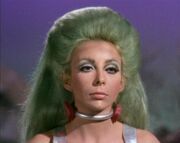 Actress Angelique Pettyjohn (born Dorothy Lee Perrins) (11 March 1943 – 14 February 1992; age 48) is noted for work in a number of "B-movies" and TV shows. On Star Trek she portrayed Shahna, an alien whom James T. Kirk seduces in TOS: "The Gamesters of Triskelion".
She was also considered at one time for the role of Nova in the original Planet of the Apes film. In 1967 Pettyjohn and Michael J. Pollard appeared together in an episode of The Girl from U.N.C.L.E., ("The U.N.C.L.E. Samurai Affair"). She also appeared alongside Seymour Cassel and Roger C. Carmel in an episode of Batman the same year.
Angelique was a natural for erotic photography; she even appeared in three hardcore adult films, from 1982 to 1986. Pictures of her, topless, wearing the Shahna costume and drill thrall harness and collar exist. She was also sometimes credited as Heaven St. John for her adult films.
She died in Las Vegas of cervical cancer in 1992 at the age of 48.
Filmography
Films:

Repo Man
Body Talk
Titillation
Stalag 69
Famous Ta-Tas

TV appearances:

Love, American Style in "Love and the Modern Wife" (01.05), 27 October 1969
Star Trek playing Shahna in the episode "

The Gamesters of Triskelion

" (02-16), 5 January 1968
Get Smart playing:

Charlie Watkins in the episode "Pussycats Galore" (02-27), 1 April 1967
A cigarette girl/Agent Charlie Watkins in the episode "Smart Fit the Battle of Jericho" (02-22), 18 February 1967

Batman playing 1st model in the episode "A Piece of the Action" (02-51), 1 March 1967
Felony Squad playing Felicia Majeski in the episode "Target!" (01-24), 20 February 1967
Mr. Terrific in the episode "I Can't Fly" (01.03), 23 January 1967
External link