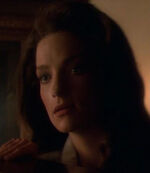 Angela Dohrmann (born 17 August 1965; age 50) is the actress who played Ricky in the Star Trek: Voyager episodes "The Cloud" and "Meld".
Other television shows on which Dohrmann has made guest appearances include Seinfeld (starring Jason Alexander), Ellen, and Party of Five. In 1995, she appeared in an episode of The Client with Tracy Middendorf. She was also seen in the 1992 TV movie Deadly Matrimony, as was her Voyager co-star Robert Picardo. Additionally, she had a recurring role on The Drew Carey Show, working with Diedrich Bader and, in one episode, Kenneth Mars.
Following her appearances on Voyager, Dohrmann had played the recurring character of Stacy Bridges on Nash Bridges. Among those she worked with on this series were Lee Arenberg, Caroline Lagerfelt, Daniel Roebuck, Jack Shearer, Kate Vernon, Tom Virtue, and Clay Wilcox.
External links