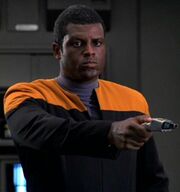 Andrew Christian English is an actor who was hired to portray a background role during the seven year run of Star Trek: Voyager. For his portrayal of a security officer, English received no credit. An undershirt worn by English was sold off on the It's A Wrap! sale and auction on eBay along with the costume of Jerome Robertson. [1]
English had supporting roles in the drama The Secret Life: Jeffrey Dahmer (1993), the comedy Down Periscope (1996, with Kelsey Grammer and James Harper), and the comedy Spy Hard (1996, with Michael Berryman, Keith Campbell, Paul Eliopoulos, Bruce Gray, John Kassir, Diane and Elaine Klimaszewski, Clyde Kusatsu, Katherine Moffat, and Peewee Piemonte).
Star Trek appearances Edit
(This list is currently incomplete.)
External link
Edit
Ad blocker interference detected!
Wikia is a free-to-use site that makes money from advertising. We have a modified experience for viewers using ad blockers

Wikia is not accessible if you've made further modifications. Remove the custom ad blocker rule(s) and the page will load as expected.