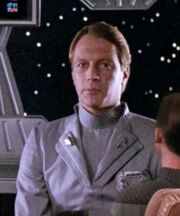 Andrew Donald Bicknell (born 17 June 1956; age 61) is a British actor who played Wagnor in the Star Trek: The Next Generation third season episode "The Hunted" in 1989.
Among his resume are films such as The Meaning of Life (1983, with Matt Frewer), Lady Jane (1986, with Patrick Stewart and W. Morgan Sheppard), Heidi (1993, with Noley Thornton), Crush (2001), and The Trial of Tony Blair (2007). In addition he appeared in several television series such as Chronicle (1981), Tales of the Unexpected (1983 and 1988), Sweating Bullets (1992), Highlander (1997), Wycliffe (1998), The Bill (2001), and Murphy's Law (2004).
Bicknell also lent his voice on some video games such as Tomorrow Never Dies (1999), 007: Agent Under Fire (2001), and the UK version of The Weakest Link (2001).
External links
Edit
Ad blocker interference detected!
Wikia is a free-to-use site that makes money from advertising. We have a modified experience for viewers using ad blockers

Wikia is not accessible if you've made further modifications. Remove the custom ad blocker rule(s) and the page will load as expected.