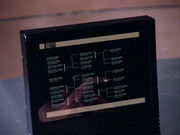 Ana Barredo Raymond was a Human. She married Chris Payne Raymond, and they had two sons, Max and Michael. (TNG: "The Neutral Zone")
The name of this character was never mentioned in dialog; the name came from the remastered Clare Raymond family tree. The birth year, the birth place, and the death year were illegible.
This character was named for Manager of DVD Production at CBS Ana Barredo.