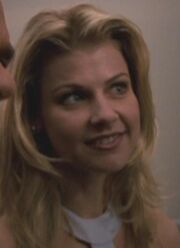 Amy Lindsay is the actress who played Lana in the final episode of Star Trek: Voyager, "Endgame". She primarily performs in erotic films and television shows produced for CineMax, although she has also made guest appearances on the mainstream programs Silk Stalkings and Pacific Blue.
One of her adult-oriented films was 1998's Secrets of a Chambermaid, in which she co-starred with Michael Ensign. She was also a regular player on CineMax's short-lived series Black Tie Nights. In 2016 she appeared in a campaign ad for United States presidential candidate Sen. Ted Cruz. The ad was subsequently pulled when her background in adult-oriented films was discovered.
External links
Edit
Ad blocker interference detected!
Wikia is a free-to-use site that makes money from advertising. We have a modified experience for viewers using ad blockers

Wikia is not accessible if you've made further modifications. Remove the custom ad blocker rule(s) and the page will load as expected.