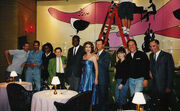 Amy Kate Connolly (also known as Amy Kate Trotti, Amy Trotti, and Amy Connolly) is an actress who appeared as a regular background performer on Star Trek: Deep Space Nine, Star Trek: Voyager, and Star Trek: Enterprise. She also worked as stand-in and photo double for Nana Visitor, Kate Mulgrew, and Jennifer Lien on Deep Space Nine and Voyager. Connolly received no credit for her appearances.
Two costumes as photo double for Kes were sold off on the It's A Wrap! sale and auction on eBay. [1] [2] Connolly is the daughter of Enterprise hair stylist Laura Connolly and is married to Enterprise assistant director David G. Trotti.
Among her acting resume is the comedy short film Don't. Don't Break Up with Megan (2004) and a guest appearance in the television series Roswell, in the 2000 episode Independence Day (starring William Sadler, produced by Jonathan Frakes and Tracey D'Arcy).
Star Trek appearances
Recurring appearance
Stand-in work
External link