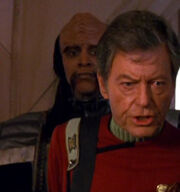 Ampy Koran is the actor who portrayed a Klingon soldier in the sixth Star Trek feature film Star Trek VI: The Undiscovered Country. He received no credit for his appearance and was identified by the call sheets of the movie.
In 1997 he guest starred, as African diplomat No.1 in the Murphy Brown episode "When One Door Closes..." along with fellow Trek alumni Jeff Corey and John Hostetter. Other appearances include episodes of The Bold and the Beautiful, Santa Barbara, Body of Evidence, General Hospital, Port Charles, Major Dad, and Saturday Night Live. He has led in over a dozen national and regional television commercials, with his infamous claim to fame "California Cheese" spot that ran for nearly 6 years along side a stellar cast of fellow actors.
Koran's film work include supporting and featured parts in the thriller Internal Affairs (1990, with Victoria Dillard, Scott Lincoln, Heather Lauren Olson, Marco Rodriguez, Valerie Wildman, and Jeff Bornstein), the thriller Uncaged (1991, with Jeffrey Dean Morgan), the crime thriller One Good Cop (1991, with Kevin Conway, Tony Plana, Victor Rivers, Barbara Townsend, and Henry Kingi, Jr.), the action thriller Illicit Behavior (1992, with Phil Rubenstein), and the fantasy adventure Josh and S.A.M. (1993, with Ronald Guttman, Raye Birk, Valerie Wildman, and Don McManus). More recently he portrayed Paul's Boss in the 2009 drama Jazzed Up Hoodlums. [1]
External links