Amazon.com is the world's largest online retailer, headquartered in Seattle, Washington. It was founded by Jeff Bezos, who is a keen fan of Trek and has himself had a Trek cameo.
Star Trek exclusive Edit
Amazon.com carried an exclusive Blu-ray Disc version of Star Trek which contained a QMx model of the USS Enterprise.
Star Trek Into Darkness exclusive Edit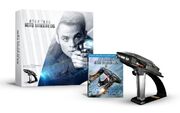 Amazon.com also carried an exclusive 3D Blu-ray Disc version of Star Trek Into Darkness which contained a QMx Phaser model.
Amazon Prime
Edit
Amazon Prime is a service that allows Amazon.com customers to pay a yearly fee for unlimited two-day shipping. As part of the service, Amazon offers a free e-book from its lending library each month and free video streaming of select older titles.
All of The Original Series, Star Trek: The Next Generation, Star Trek: Deep Space Nine, Star Trek: Voyager, and Star Trek: Enterprise are currently available to stream for free. The Original Series and The Next Generation are available in remastered high definition.
Amazon.co.uk subscribers can watch both the original and remastered editions of Star Trek: The Original Series, as well as the entirety of Voyager.
At one point, Netflix, Hulu, and Amazon Prime all wanted to stream Star Trek: Discovery. [1]
External links
Edit