The Amarillo Design Bureau, Inc., based in Amarillo, Texas, is a company specializing in tactical and strategic board wargames.
Star Trek associationEdit
The company created and developed a series of games set in the Star Fleet Universe which includes the tactical combat games Star Fleet Battles and Federation Commander, the strategic-level game Federation and Empire, the card-based tactical game Star Fleet Battle Force and the role-playing game Prime Directive. They also produce a large series of miniatures under the Starline 2400 label.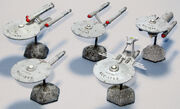 The current CEO is Stephen V. Cole, the designer of Star Fleet Battles.
See also
Edit
External link
Edit