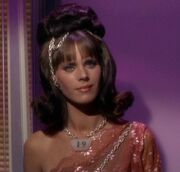 Alyce Andrece (5 September 1936 – 14 May 2005; age 68) was an actress who was credited with having portrayed the Alice series of androids (#1 - #250) in the Star Trek: The Original Series episode "I, Mudd". She filmed her scenes between Monday 14 August 1967 and Friday 18 August 1967 at Desilu Stage 10.
Alyce also guest-starred, along with her twin sister, Rhae, in Bonanza (in an episode directed by Joseph Pevney), Batman (with Yvonne Craig), and in the 1970 film Hell's Bloody Devils (with Keith Andes). That same year, she and her sister performed as singers in a band called "The Third Eye" in an episode of The Name of the Game (with Jonathan Goldsmith). They were also singers in a jazz-pop group of the late 1960s called "The Sound of Feeling."
External link
Edit
Ad blocker interference detected!
Wikia is a free-to-use site that makes money from advertising. We have a modified experience for viewers using ad blockers

Wikia is not accessible if you've made further modifications. Remove the custom ad blocker rule(s) and the page will load as expected.