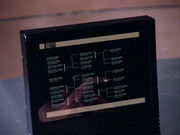 Alpha Centauri City was the major city of the Alpha Centauri Colony.
In the early 22nd century, Phil Bishop Raymond was born in this city. Peter Molnar Raymond was born there in the mid 22nd century. (TNG: "The Neutral Zone")
The city was never mentioned in dialog; this name came from the remastered Clare Raymond family tree.