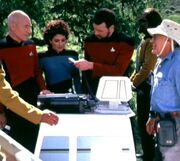 Alexander Singer (born 18 April 1928; age 88) is a director who directed many episodes of Star Trek: The Next Generation, Star Trek: Deep Space Nine and Star Trek: Voyager.
Singer's directorial career spans more than thirty years, from 1960 to 1998. His credits include The Fugitive, The Monkees, Mission: Impossible, Wonder Woman, Remington Steele, In the Heat of the Night, Walker, Texas Ranger, Jake and the Fatman, many soap operas, and MacGyver.
Singer has described "The Adversary" as being one of the most challenging Star Trek episodes he directed. (Star Trek: Deep Space Nine Companion)
According to both Garrett Wang and Robert Picardo, Singer had an unusual method of directing while filming episodes of Star Trek: Voyager. After a take was over, instead of verbally talking to the cast about what they did wrong in a scene, he would make strange facial expressions at them. It was his way of telling them they were being too expressive during a scene. [1]
Credits
External links