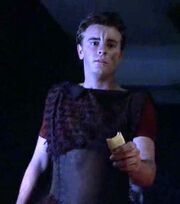 Alexander Fors is the actor who portrayed the apprentice in the Star Trek: Voyager episode "Muse". As a background actor he received no credit for his performance and was identified by his costume which was sold off on the It's A Wrap! sale and auction on eBay. [1]
Fors played a supporting role in the 2001 drama Ghost World, alongside Brian George, Pat Healy, Patrick Fischler, Jerry Rector, Brian Jacobs, Diane Salinger, and Teri Garr.
External link
Edit
Ad blocker interference detected!
Wikia is a free-to-use site that makes money from advertising. We have a modified experience for viewers using ad blockers

Wikia is not accessible if you've made further modifications. Remove the custom ad blocker rule(s) and the page will load as expected.