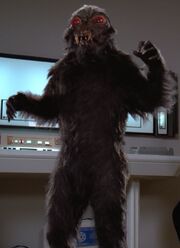 Alex Daniels (born 4 March 1956; age 61) is a stuntman, stunt actor, and stunt coordinator who performed stunts as a large creature in the Star Trek: The Next Generation second season episode "The Dauphin" in 1989. He received no credit for this appearance.
Born as Charles Alexander Daniels in Columbia, South Carolina, he doubled for actors such as David Hasselhoff and Peter Coyote and worked as designer and director for the Batman Stunt Shows at Six Flags Theme Parks International between 1995 and 2008. In 2009 he received a Screen Actors Guild Award nomination for Outstanding Performance by a Stunt Ensemble in a Television Series for his work on the drama series Prison Break. He shared this nomination with fellow Trek stunt performers Eddie Braun, Tanner Gill, Steve Kelso, Hubie Kerns, Jr., Henry Kingi, Jr., Johnny Martin, Eric Norris, Lin Oeding, Chuck Picerni, Jr., Pat Romano, Mike Smith, and Pete Turner.
In addition to this, he also appeared in Starman (1984, with Tony Edwards and John Walter Davis; make-up art by Doug Drexler), and was a stunt performer on a number of other television series, including Buffy the Vampire Slayer, Baywatch, The X-Files, and Ghost Whisperer, in addition to movies such as Sphere, Red Dragon, and Pearl Harbor.
Currently, Daniels is serving as 2nd Vice President/Office Manager of the Stuntmen's Association of Motion Pictures. [1]
External links
Edit
Ad blocker interference detected!
Wikia is a free-to-use site that makes money from advertising. We have a modified experience for viewers using ad blockers

Wikia is not accessible if you've made further modifications. Remove the custom ad blocker rule(s) and the page will load as expected.