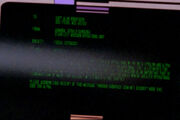 Captain Alan Kobayashi was a Starfleet officer in the mid-24th century. In 2364, Kobayashi commanded the starship USS Tycho. In that year, prior to stardate 41775, after requesting an additional fuel allotment, he received a response from Admiral Gerald Kawaoki of Starfleet Mission Operations Unit. The request was denied.
At the end of that year, Data read orders received by the Tycho and several others to investigate claims of a conspiracy among the highest members of Starfleet Command. (TNG: "Conspiracy")
Kobayashi was named after TNG graphic designer and scenic artist Alan Kobayashi.
He was never mentioned in dialog; his name came from a mission order.